Security
Employment Type

Part Time

Contact Email

Location

Cleveland , OH 44106
Next Steps
This job is closed to new applicants.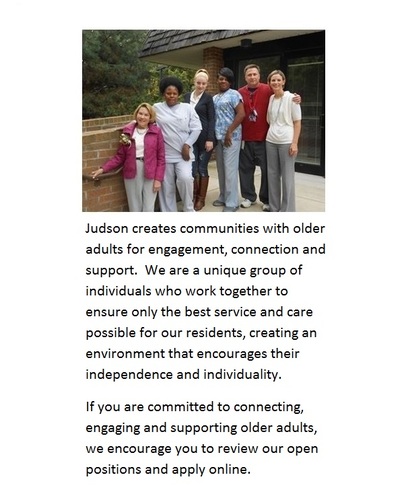 Description
Involved in and have oversight for day-to-day operations of the department of Security for Judson. Work with others to ensure a safety and risk free environment for our residents and associates alike.
Responsibilities
Monitor security systems (cameras, alarms, procedures, etc.), make adjustments as required.
Handle in-coming telephone calls in a professional manner and direct calls to proper destinations.
Conduct daily safety/security rounds of the facility.
Investigate and file necessary reports with the Director of Security on reported losses.
Conduct fire/safety drills on all three shifts in accordance with the Ohio Department of Health.
Oversee parking issues/violations/hang-tags and FOB issuance and maintain accurate records.
Other duties as may be assigned.
Based on operational need, various shift options may be available (for example: 1st, 2nd, and 3rd shift Part-time or PRN/Casual status). Flexibility is important.
Required Skills and Experience
• High school diploma or equivalent required. • Prior security experience; other related experience may be considered. • Ability to maintain a professional appearance and demeanor at all times while providing exceptional customer service. • Good writing skills and basic computer literacy necessary. • Work/Office environment to include outside duties in winter/summer months. Physical demands may include kneeling, climbing ladders, reaching, pushing, manipulating, talking, hearing, shoveling snow, sitting and/or standing for extended periods, crouching, stooping, walking, lifting up to 25 lbs. and repetitive motion. • Candidates must pass a pre-hire (post-offer) screening process that includes a criminal/fingerprint screening, professional references, and physical exam (with drug and nicotine testing) to ensure ability to perform essential tasks. • We are an equal opportunity employer, committed to a drug and smoke free work environment. Successful completion of post-offer activities and pre-employment screening is mandatory, which includes a criminal background check.