RN Supervisor
Employment Type

Part Time

Contact Email

Location

Cleveland , Ohio 44106
Next Steps

Apply here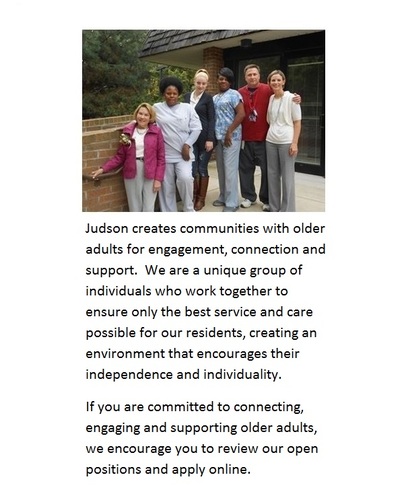 Description
Judson Health center is looking for an experienced RN Supervisor to provide nursing care for residents requiring skilled nursing part-time or PRN on 2nd and 3rd shifts. We are smoke-free organization!
All associates receive no-cost access to facility pool and fitness facility and may participate in 403(b).
Responsibilities
Provides basic professional nursing services to residents within the professional scope of licensure and as per the instructions given by attending physician(s) and facility/professional supervisors. Administers or oversees medication delivery process; changes IV access dressings as needed and within acceptable standards of practice.
Assesses residents for change in condition and implements appropriate action within established practice and protocol.
Maintains accurate and timely records of care and treatment in a confidential manner within the structure of HIPAA.
Communicates pertinent information related to unit operations and resident care to the appropriate person(s) in a timely and effective manner.
Required Skills and Experience
Graduate of an accredited course of professional study in Registered Nursing with valid/active licensure as a Registered Nurse within the State of Ohio. Supervisor experience preferred.
Current certification in emergency resuscitation (CPR, BLS, etc.)
Experience in direct patient care and/or experience caring for the senior adult population.
Ability to reprioritize and apply critical thinking to routine and emergency situations
Willingness to upgrade skill level as position may require
Flexibility to fulfill changing scheduling needs
Minimum 1 year clinical experience specific to skilled nursing