Maintenance Worker - SFC
Employment Type

Full Time

Contact Email

Location

Chagrin Falls, oh 44023
Next Steps
This job is closed to new applicants.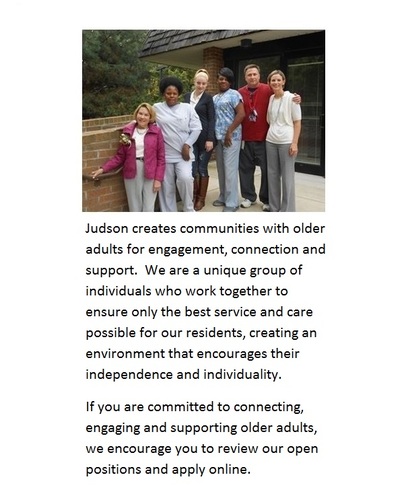 Description
Inspect, repair, and maintain Judson Manor facility HVAC, Plumbing, Electrical, Heating, and all Life Safety Equipment.
This is an every Saturday/Sunday position with flexible hours during the week.
Responsibilities
Preventive Maintenance: Keeping the equipment working by servicing equipment according to the manufacturer's recommended preventive maintenance schedule. • Corrective Maintenance: Repairing broken equipment. Replacing, repairing, or reworking broken parts to assure the equipment is in good working order. • Construction: Adding on to or refurbishing portions of the facility or installing new equipment that will complement the existing facility. • Cooperate with all members and employees who utilize the maintenance request procedure so that requests are handled quickly and thoroughly. • On-Call some weekends and holidays - following a rotating weekend and holiday schedule.
Required Skills and Experience
• High school diploma or GED. • Hold current licenses required for equipment repair. Experience in plumbing and HVAC systems. General carpentry a plus. • Valid driver's license and safe driving record required.
Physical Requirements: Must be able to pass physical examination upon employment and periodically thereafter if so required. Have no handicaps which would preclude the performance of the essential functions outlined in this job description.
Physical demands may include kneeling, climbing ladders, reaching, pushing, manipulating stairs, talking, hearing, standing for extended periods, crouching, stooping, walking, lifting a minimum of 60 pounds, and repetitive motion.
Working Conditions: Controlled climate and all types of weather. Must be able to tolerate working conditions consistent with duties outlined in this job description; e.g. reasonable noise levels, dust and other particulate matter, exposure to a variety of chemicals and odors, and an environment that supports animal life.