Maintenance Supervisor
Employment Type

Full Time

Contact Email
Next Steps
This job is closed to new applicants.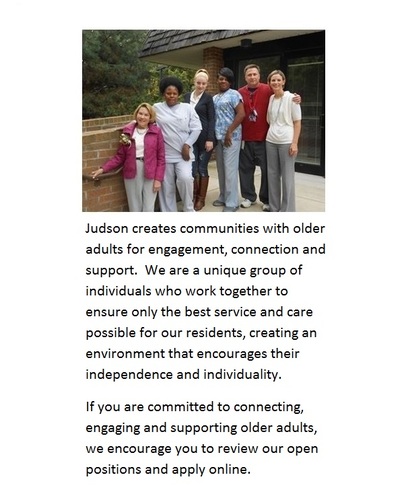 Description
Judson Services, Inc. is currently seeking an experienced leader to supervise the maintenance processes and completion of maintenance tasks of Judson Park, our largest facility. Assist with maintaining personnel and equipment to ensure peak performance and minimal down time of Judson Park's facility refrigeration, air handling, water, plumbing, electrical, heating, and emergency management system, as well as all life safety equipment.
Responsibilities
Provide leadership, direct supervision and instruction to maintenance personnel including training, scheduling assignments, evaluating performance; selection and orientation of personnel to fulfill all areas of responsibility in accordance with operational needs, company policy and the applicable collective bargaining agreement.
Promote and encourage positive interdepartmental and resident relationships; Cooperate with all residents and associates who utilize the maintenance request procedure so that requests are handled quickly and thoroughly. Prepare payroll and department budgets, monitoring costs accordingly as designated.
Perform and Schedule/Oversee Preventive/Corrective/Overhaul Maintenance: Keep the equipment working by ensuring servicing of equipment according to the manufacturer's recommended preventive maintenance schedule. Take equipment off the line and replace or rebuild as needed.
Construction: Additions or modifications to portions of the facility and new equipment to complement the facility.
Inventory: Maintaining a revolving inventory of all parts or items that are repeatedly and frequently used.
Emergency Coverage: Carry a pager and be able to respond to emergencies 24 hours a day.
Miscellaneous: Maintains a record of acceptable attendance and punctuality. Observes all company rules and safety procedures. Other duties as assigned.
Required Skills and Experience
REQUIREMENTS:
High school diploma or GED with five (5) years of related experience.
Hold current licenses required for equipment repair. Experience in the installation of HVAC or refrigeration systems. Current Environmental Protection Agency-approved Type 1 and Type II Refrigeration Recovery Certification.
Valid Ohio driver's license and safe driving record, also, required.
Experience with a unionized workforce preferred.
PHYSICAL REQUIREMENTS Able to lift minimum of 60 lbs. (and other physical requirements such as kneeling/climbing/prolonged walking/standing, etc.)
Must be able to read and follow written and oral instructions
Ability to reprioritize and apply critical thinking to routine and emergency situations
Willingness to upgrade skill level as position may require
Compensation commensurate with experience and skills ($45,000-$55,000 annually)