LPN
Employment Type

PRN

Contact Email

Location

Cleveland, Ohio 44106
Next Steps

Apply here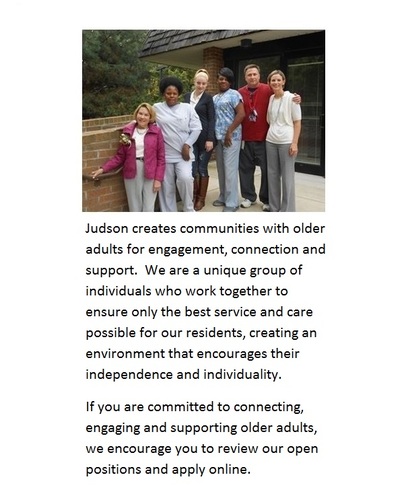 Description
Are you an experienced Licensed Practical Nurse who is looking for a new challenge? Are you able to provide clinical and front line supervisory support? If so, we're seeking PRN/Substitute LPNs to provide direct care to residents with typical conditions associated with the aging process and various stages of cognitive decline.
Responsibilities
LPNs at Judson are responsible for all nursing services within designated units, which may include Assisted Living or Skilled Nursing/Rehab. Examples of essential functions are listed below (not intended as an all-inclusive list of duties):
Personally supervises and exercises independent judgment in giving direction, and assigning work to the front-line nursing and ancillary staff. Accessible to front-line staff, residents and families/visitors.
Administers or assists with the administration of all types of medications in accordance with physician's orders and acceptable standards of practice.
Completes accurate clinical assessments and notifies the proper clinical team members, resident and/or POA of changes in the resident's status.
Performs dressing changes in accordance with physician's orders and acceptable standards of practice. Assesses wounds, implements new wound treatments, etc.
Facilitates timely conference with clinical nurse practitioner and/or physician for changes in the resident's medical needs. Provides proper medical information to the physician and/or CNP.
Assesses new admissions/readmissions and verifies physician orders.
Other duties as assigned.
Based on operational need, various shift options may be available (for example: 1st, 2nd, and 3rd shift as well as Full-time, Part-time, or PRN/Casual status). Flexibility is important.
Required Skills and Experience
• Current valid and unrestricted Licensure in the State of Ohio as a Licensed Practical Nurse • 1-2 years of related work experience • Preferred: Ideal candidates will have previous experience working in an assisted or long-term care setting as an LPN; Supervisory experience desirable • Working conditions include: (1) An office environment, exposed to general office equipment including computers, printers, copy machines and fax machines; and (2) A clinical environment, exposed to the general clinical environment including; resident units, resident rooms and care areas. May have exposure to resident waste and blood products and will use PPE (Personal Protective Equipment) and universal precautions accordingly. May be exposed to infectious pathogens and will follow prescribed isolation. May be exposed to combative residents and/or residents with delirium/confusion. • Physical requirements include: kneeling, climbing ladders, reaching, pushing, manipulating, talking, hearing, standing or sitting for extended periods, crouching, stooping, walking, lifting up to 75 pounds, transferring up to 150 pounds and repetitive motion. Must possess the dexterity to prepare medications and apply treatments. Must be able to use the telephone, computer and communicate effectively in English.