Housekeeper -PT
Employment Type

PRN

Salary

10.25

Contact Email

Location

Cleveland, Ohio 44106
Next Steps
This job is closed to new applicants.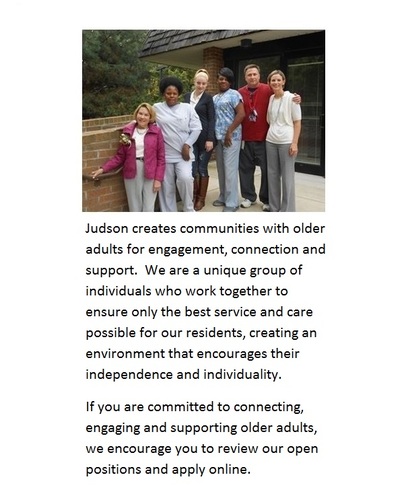 Description
Judson Manor is located in the heart of University Circle and offers independent and assisted living options to its residents. An architectural gem of a building, Judson Manor was built in the 1920's and has been restored and renovated with modern amenities. Judson Manor is seeking a Porter and a Housekeeper to work part-time (28 hours) days shift on our environmental services team.
Responsibilities
Job duties include performing a variety of cleaning tasks for our members and in the common areas of the facility. Cleaning tasks include but are not limited to sweeping, vacuuming, mopping, dusting, washing windows, emptying trash, and cleaning of public and private bathrooms and general public areas.
Physical demands include but are not limited to kneeling, climbing stairs and ladders, reaching, pushing, written and verbal communication, crouching/stooping, as well as lifting a minimum of 60 pounds using appropriate body mechanics.
Required Skills and Experience
Must have HS education or equivalent. Prior experience in cleaning in either a hospitality or healthcare environment highly desirable.
Must be able to relate to the aging population and adapt to change.
Applicants must pass a pre-employment physical, background check and drug test.
We are a smoke free environment.