Care Partner (STNA)
Employment Type

Full\Part Time

Contact Email

Location

Chagrin Falls , Ohio 44023
Next Steps

Apply here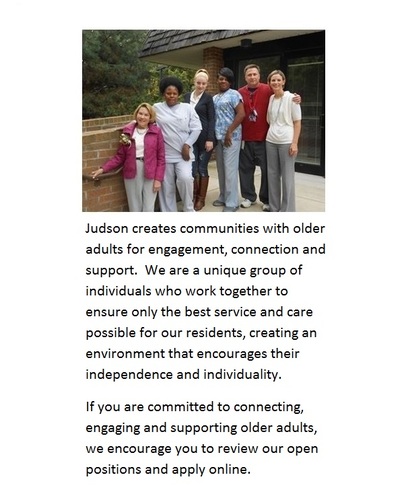 Description
State Tested Nursing Assistants are critical to the team's success at Crane House, South Franklin Circle's Assisted Living program.
Responsibilities
Assist member with personal care functions, including but not limited to: dental and mouth care, bathing, dressing and grooming, hair care, nail care, shaving, bowel and bladder care, other personal and hygiene care
Assist in moving, positioning, and transporting members into and out of beds, chairs, bathtubs, wheelchairs, lifts, etc.
Create choice and promote autonomy of members in all aspects of personal care.
Observe, monitor, and report all significant changes in physical, emotional, and cognitive wellbeing of members.
Carefully follow the plan of care for each member created by the care giving team consisting of the member, family, care partners, clinical partners and the Coordinator.
Other related duties as assigned.
Based on operational need, various shift options may be available (for example: 1st, 2nd, and 3rd shift as well as Full-time, Part-time, or PRN/Casual status). Flexibility is important.
Required Skills and Experience
• High school diploma or equivalent required. Training and/or experience in caring for the elderly. Experience as a nursing assistant, home health aide, recreational therapist, dietary worker, or housekeeper in a senior living setting is a plus. STNA and at least 1 year of related experience preferred. • Work environment is typical to healthcare, senior living, retirement community, and/or an assisted living facility. Physical demands may include walking, talking, hearing, kneeling, crouching, stooping, reaching, pushing, climbing a ladder, manipulating, standing for extended periods, lifting up to 75 pounds, transferring resident up to 150 pounds with assistance, and repetitive motion. • Candidates must pass a pre-hire (post-offer) screening process that includes a criminal/fingerprint screening, professional references, and physical exam (with drug and nicotine testing) to ensure ability to perform essential tasks. • We are an equal opportunity employer, committed to a drug and smoke free work environment. Successful completion of post-offer activities and pre-employment screening is mandatory, which includes a criminal background check.