2nd Shift State Tested Nursing Assistant
Employment Type

Hourly

Contact Email

Location

Cleveland, Ohio 44106
Next Steps

Apply here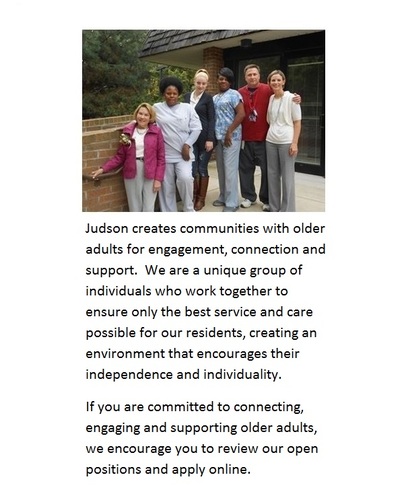 Description
Independent Living, Assisted Living, Memory Care, and Skilled Nursing/Rehab in Cleveland. We remain interested in exploring talented and passionate STNAs to act as Resident Care Assistants, providing an array of personal care and supportive programming to residents in the designed units.
Hours 2:30 pm to 11:00 pm
Responsibilities
Perform a variety of supportive resident care duties, while also providing related services that promote comfort, safety and meet the resident personal needs. 1. Assists residents with activities of daily living (ADL) according to guidelines and member care plans, which includes but is not limited to Bath/Shower, Mouth Care, Hair Care, Toileting, Skin Care, and Nail Care.
Implement fall prevention program for any resident at risk for falling

Report any changes in resident's condition/appearance/function to nurse or supervisor

Call lights

Perform selected treatments according to policy and procedure. TX's include:

Assist resident to maintain optimal nutritional and hydration status according to guidelines and member care plans, for mealtimes and nourishment. Document resident intake in POC after each meal and nourishment. Notify nurse of poor intake of 50% or less consumed at each meal as well
Required Skills and Experience
• High school diploma or GED required. • Current State of Ohio certification as a State Tested Nursing Assistant • For certain assignments Judson may consider those who have graduated from a State approved nursing aide training program with plans to take the mandated test for certification. • Current First Aid certification highly desirable, required for Assisted Living assignments. • At least 1 year of related work experience highly desired. • Computer literacy required.
• Must possess excellent communication skills, being able to talk with an Alzheimer's resident in a manner that is at their level of understanding, yet non-patronizing. Must be patient and understanding with the residents, speaking in a tone of voice that is gentle and accepting, yet audible. Must be able to develop good working relationships with other Resident Companions and staff. Must be willing to share job responsibilities when needed. Must be flexible and willing to perform multi-functional tasks. • Working conditions include the following Clinical environment characteristics: resident units, resident rooms and care areas. May have exposure to resident waste and blood products and will use PPE (Personal Protective Equipment) and universal precautions accordingly. May be exposed to infections, pathogens and will follow prescribed isolations. May be exposed to combative residents and/or residents with delirium/confusion. • Physical requirements include: kneeling, climbing ladders, reaching, pushing, manipulating, talking, hearing, standing for extended periods, crouching, stooping, walking, lifting up to 40 lbs., transferring resident up to 150 lbs. with assistance, if necessary, and repetitive motion.